HOW I FOUND RAREJOB
Finding RareJob Company was a blessing in disguise.
I found RareJob's advertisement when I was originally searching for a job for my sister online. It was just in time when I also started considering helping my husband in our financial needs in the ministry and helping my mother in the Philippines as well! That was in August 2013.
Reading through the qualifications on the advertisement, I thought to myself. "Maybe I should give it a try." After much prayers, God helped me to pass the screening, demo lesson and the interview!
So I started working at home ever since then and I thought this job is, indeed, a rare find!
So why should you consider joining <a href="http://Earn up to P35,000 a month. Be an online English tutor.">RareJob Philippines? Here you go! You will:
1. HAVE FULL CONTROL OF YOUR TIME.
You can teach anytime during the day from 5AM to 12MN. You can choose to teach for 19 hours or just 30 minutes each day. You can also decide to teach every single day of the month, once a week, once every two weeks, once a month or not at all. 🙂 The bottom line is you are your own boss. 🙂
Have a look on how flexible your schedule can be.
2. BE ABLE TO HELP YOUR FAMILY FINANCIALLY WITHOUT WORKING LIKE A HORSE.
The company offers substantial incentives for:
perfect attendance in a month (i.e. having less than 2.5% class cancellation rate due to blackout, connection problem and so on.)
video lessons for at least 100 classes each month (i.e. 50 hours/month)
excellent teaching which is based on the students' evaluation. The awardees receive incentives in the quarter they qualified as "Good Tutors".
converting applicants like your friends and others to become tutors.
being a recommended TOEFL coach/tutor.
passing general tutoring skills evaluations.
being a Premium Lesson Tutor.
teaching on peak hours or holidays.
Therefore, you can imagine that you can earn EXTRA without sacrificing your time for your family and your other priorities.
So if you're a mother like me, you'll get a happier baby! 🙂
3. LEARN FROM YOUR POLITE AND PROFESSIONAL STUDENTS.
Most of the students are Japanese. There are also instances when Brazilians, Russians, Koreans, Chinese, Taiwanese, and other nationalities residing in Japan, take online lessons from RareJob.
Needless to say, students are from different walks of life. I have experienced teaching children to read simple children's stories in English, having free conversation with stay-at-home moms like me, teaching grammar to elementary and high school students, helping university students pass TOEFL/IELTS exams or job interviews, teaching Business English to career people in and out of Japan. It is noteworthy that 99.9% of the students are very polite and receptive during their booked lessons.
4. HAVE A CHANCE TO LEARN JAPANESE CULTURE AND HAVE VIRTUAL TOURS AT THE COMFORT OF YOUR HOME.
I have personally grown a lot in my knowledge of Japanese culture. Before teaching Japanese, I only knew very general information about Japan. Gradually, talking with my students helped me grow not only in my skills in teaching, but also in understanding festivals, food, and faith of Japanese people.
Some of my business students even take me to virtual tours to Japanese prefectures or cities abroad while taking online classes.
5. HAVE ANOTHER SOURCE OF INCOME, IN CASE YOU HAVE A FULL-TIME JOB.
I have heard that there are RareJob tutors who are lawyers, doctors, teachers, office staff, university students and so on. If you happen to be doing the ministry or pursuing another career, you can still consider joining. Use your free time to earn extra for your emergency needs! 🙂
This is it! The job you have been waiting for–it's up to you if you wanna do it full-time or part-time! 🙂
APPLICATION PROCESS
So….after sharing with you the five (5) reasons why you should join RareJob, I am hoping and praying that you have decided to be in at this point.
Here's a quick tutorial on how you can get started:
What are you waiting for?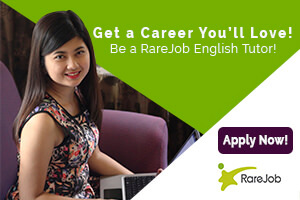 Please… Please… feel free to ask me anytime you need help during the application process.
Go ahead and use the contact form below to let me know of your concerns and I'll keep in touch with you. 🙂
I know that you can do it! God bless you on this journey!!! 🙂