Hi fellow-RJ tutors! I am writing this in my attempt to find potential tutors to join the BCC (Business Conversation Curriculum) Premium Tutor Pool of RareJob. I also would like to help the aspiring Premium Tutors to set their apprehensions aside and pass the demo lesson successfully.
EXPECTATIONS FROM BCC PREMIUM TUTORS:
You must have seen the ad about the program of RareJob about Premium Lessons.
You must have internalized by now that, as a BCC Premium Tutor, you are expected to:
Use the appropriate material and adhere to student's request
Use video camera in all premium lessons
Ensure good sound quality all throughout the premium lesson
Wear smart casual clothes in all premium lessons
Conduct lessons in an appropriate teaching environment (i.e. no unnecessary sounds, items or people on the background)
That's according to RareJob.
Now, you might be interested to join the said program but haply, dreading the demo lesson.
As I have mentioned, I am writing this to help you calm your ponies. I myself had millions of butterflies in my tummy (lol!) during the mock lesson and the coaching session but the key to acing both is preparation.

Here are the four (4) quick and easy ways to ace your upcoming BCC Premium demo class:
1. FAMILIARIZE YOURSELF WITH THE LESSON FLOW. 
As you may have observed, Jissen materials are different from RJ4B materials so read the material sent by the business team thoroughly. Needless to say, make sure that you also follow the guidelines.
2. PREPARE THIS TEMPLATE ON YOUR NOTEPAD.
"OVERALL SCORE
*Vocabulary/Phrases*

*Grammar*

*Pronunciation*"
Make sure that you copy-paste all your corrections to your notepad every time you give your corrections. Doing this will ensure that you are ready to send an accomplished feedback note to the student towards the end of your lesson.
IMPORTANT NOTE: Send the accomplished notes before starting to tell your feedback about your student's performance during the lesson.
FAQ:
How do we know the scoring system? They are written at the end of the material. Go, figure it out. 🙂
3. BE PROFESSIONAL.
While you can be very friendly in your regular lessons, you are expected to be professional when teaching business conversation students. Smiling with your eyes during your classes with business students should be enough according to our very helpful Tutor Nikki.B to make your students feel that you are listening to them. By the way, she has also answered a few FAQs of some aspiring premium tutors. Please pay her blog a visit here.
4. GIVE YOUR BEST AND TRUST IN THE LORD.

Be prepared before the lesson. Be attentive during the lesson. Be responsible after the lesson (i.e. accomplish your notes). Most of all, remember this verse:
Commit thy works unto the LORD, and thy thoughts shall be established. Proverbs 16:3

That's all! Ganbatte! 😀
After reading these tips, I hope you will sincerely consider joining the program. Please send me the following if you want me to refer you. Please trust that I will keep your information private. Of course, I need to send your info to the business team so they can contact you. 🙂
Thanks a lot! May God bless you! You can do it! (Philippians 4:13)
MORE PROMOTION…
If in case, you haven't joined RareJob, please do so now.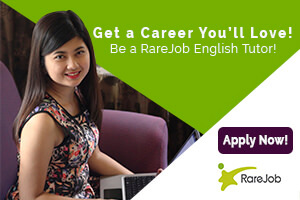 PS. I posted a YouTube video teaching you a more updated steps to becoming a Premium Tutor since RareJob haa made a few changes in the application process of a Premium Tutorial Program in 2020.